Its Play time with Kiddos !  Same as Cooking , Lets use old materials or even whatever we found at our home !
Chocolate decorations
Play Play Play ! I always love to free hand drawing and painting! Its like a freedom of our hands to create everything !
Instructions
Prepare a hot water

Use a double boiler method to melt the chocolate bars

Wait 5- 10 minutes

Pour the melted chocolate into some plastic

Make some small hole at one side

Start to create every shape that you like

let it cooling down for minimum one hours 
store it in the dry place 
Salt Dough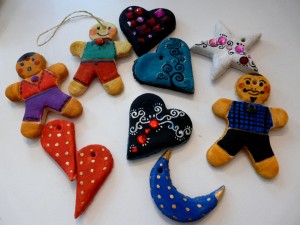 Its weekend ! I always prepared the bread dough for tomorrow , but there's an accident , I supposed to add ½ tsp salt into the flour , somehow it slip and I just added ½ cup salt more ! I hate to wasting dough . So lets just play Salt Dough ! its absolutely safe for kids and fun !
Ingredients
½ cup water

½ cup salt

1 cup all purposed flour
Instructions
Mix the water with the salt , then pour it into the flour , knead till it soft like clay dough !
Roll it into flat surface , create every shape , no limits no boundaries
Pre heat the oven for 200'C then bake the dough at 180'C for 45 minutes
Wait until its cold then paint it and once again no limit to use our creativity !